Sexual & Reproductive Health Services
Signature Health's Sexual & Reproductive Health program focuses on access to low-cost or no-cost education, contraception/birth control, and medical services. Through clinics and community education, we are dedicated to promoting informed decision-making and personal choice about parenthood and sexuality, providing respectful, compassionate, nonjudgmental care. 
A 50-year Legacy of Serving the Community
In 2017, the Family Planning Association (founded in 1970) became part of Signature Health and now serves patients as our Sexual and Reproductive Health program. This group of caring professionals welcomes teens and adults into approachable, confidential clinics, funded in part by an Ohio Department of Health Reproductive Health and Wellness Program grant, and in compliance with Title X program regulations and guidelines.
Services
Birth control methods including:

Prescription pills
Vaginal rings (NuvaRing®)
Hormone shots
Long-acting reversible contraceptives (LARCs)

Intrauterine devices (IUDs)
Hormonal arm implants (Nexplanon®)

Free Condoms

Emergency contraception, also known as the morning-after pill, to protect against pregnancy after sex (e.g., Plan B, and Ella)
Pregnancy testing and counseling
Annual exams including pap smears, breast, testicular, and pelvic screenings
Minor gynecological procedures
Screening and treatment for sexually transmitted infections (STIs/STDs) and HIV
HPV vaccine (for uninsured adults only)
Prenatal care (for uninsured patients)
Education related to preconception and natural family planning
Walk-in birth control refills for established patients during supply hours
Weekly walk-in Teen Clinics in Painesville and Ashtabula. See dates, times and more info.
Connection to mental health, addiction recovery, primary medical care, infectious disease, and social services
Supply Times for Birth Control Refills
If you are already a patient and it is time for more birth control pills, vaginal rings, or another hormone shot, there are dedicated days/times in Painesville and Ashtabula when you can get your supplies. An appointment is not required, but there may be a short wait while our providers are serving other patients. Please bring your method of payment (cash, check, Visa or Mastercard). See supply time dates and times.
Community Education/Workshops
Our community education specialists conduct outreach and provide education in schools, youth and adult detention facilities, workplaces and other community settings. Topics may include contraception, healthy relationships, violence prevention, sexually transmitted infections (STIs/STDs), and others upon request. For more information, call 440.352.0608 for programming in Cuyahoga, Lake, and Geauga Counties, or 440.992.5953 for programming in Ashtabula County.
For additional educational information, follow this program on Instagram, Facebook, and Twitter.
We also share about healthy relationships through our Relationships In Focus pages on Instagram, Facebook and Twitter. 
Paying for Services
Medicaid (and assistance with applying)
Medicare
Some private insurance plans
If uninsured, a sliding fee scale is available (please bring income verification)
Clinic Locations
Sexual and reproductive health services are available at:
Signature Health Painesville
54 S State St., Painesville, OH, 44077
Program hours:       
Monday & Thursday: 10:30 a.m. to 7 p.m.
Tuesday, Wednesday, Friday: 8:30 a.m. to 5 p.m.   
Call (440) 352-0608 to make an appointment or learn more.
Signature Health Ashtabula – Sexual and Reproductive Health
510 W. 44th St., Ste. 2, Ashtabula, OH 44004
Program hours:
Monday: 10:30 a.m. to 7 p.m.
Tuesday & Thursday: 8 a.m. to 4:30 p.m.      
Clinic appointments are not scheduled on Wednesdays or Fridays, but the phone is answered.                     
Call (440) 992-5953 to make an appointment or learn more.
Many sexual and reproductive health services, such as birth control access, STI and HIV testing, and other screenings are available through Signature Health's primary care or infectious disease providers in Beachwood, Lakewood, Maple Heights and Willoughby. Call 440-352-0608 to learn more and to make an appointment.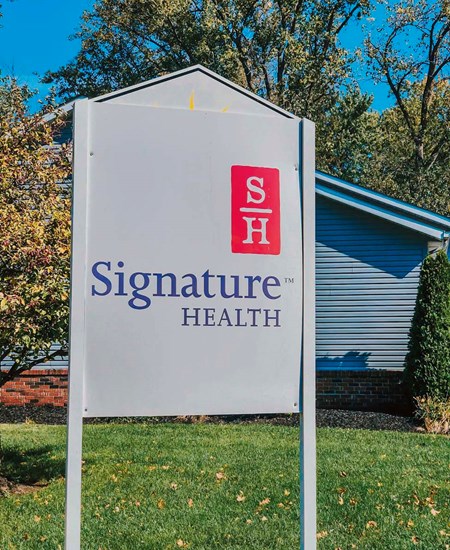 Contact Us
To schedule an appointment or learn more about our program please contact us at one of the numbers listed below.
Painesville: (440) 352-0608
Ashtabula: (440) 992-5953 
Ask an Educator
For general questions regarding sexual and reproductive health or for more information on our available services, click here to get in contact with one of our educators.
Make a Donation
You can donate to Signature Health's Sexual and Reproductive Health program by calling 440-578-8200 x10234.
Meet Our Reproductive Health Providers
Dianne Rafferty, CNP, Associate Medical Director, Reproductive Health
Women's Health Nurse Practitioner Rafferty sees patients in Painesville.
Richelle Shipman, CNP
Women's Health Nurse Practitioner Shipman sees patients in Ashtabula and Painesville.
Other team members include an OB/GYN medical director, program director, social services coordinator, educators, medical assistants, and patient services representatives.